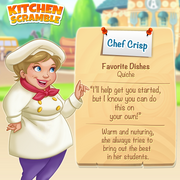 Chef Crisp is an expert chef who had helped and taught Pepper Mills on how to cook dishes and your guide to new materials and power-ups. She first appeared in Chef Academy as one of the customers in Level 67, where she is seen ordering the new dish for the level, Crepes. She continues to visit the truck as a customer in Level 71, 72, 74, and 77,etc.
Personality
[
]
Chef Crisp is a warm and nurturing teacher who always encourage and tries to bring out the best in her students. Despite often being the one who orders the new dish in each level, her favorite dish is the Quiche.
Appearance
[
]
Chef Crisp is a chubby adult woman who wears a white and red chef uniform with purple pants and a chef hat on top of her head. She has short blonde hair and blue eyes.
Gallery
[
]